This week (August 10 through 12), more than 3,000 attendees braved the high altitude in downtown Denver, CO, to attend the close to 300 technical sessions offered at the ninth annual Inprise Conference (ICon '98). As a Java developer at a conference where the majority of sessions were related to non-Java topics (for example, Delphi, databases, and CORBA), I found there was enough Java information to keep almost anyone happy.
The show started on Monday, August 10, with two full days of pre-conference tutorials -- including those on Java-related topics such as Swing and JavaBeans -- and introductory talks on Java, JBuilder, and database application development with JBuilder.
Opening amusements
Inprise chairman and CEO Del Yocam opened the conference with an amusing video of Inprise personnel dressed in the style of King Arthur, or more appropriately, "King Delbert." After a young Delbert pulled the sword "Active Xcalibur" from a stone in "Bor-land," he led a quest for the ORB of Knowledge, directed by Merlin -- better known as "David I" after Inprise Developer Relations Director David Intersimone.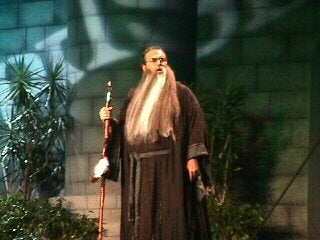 After the stage show was over, Yocam got serious, discussing Inprise as a new company -- not simply a renamed Borland. According to Yocam, Inprise is an entirely new entity created out of Borland and Visigenics.
In his keynote, Yocam articulated the key theme of the conference: the use of Inprise development tools to create and deploy distributed enterprise applications, connected via CORBA and the VisiBroker ORB (object request broker). While the importance of Java -- and naturally of the company's JBuilder -- were discussed, the significance of VisiBroker also received a great deal of attention.
Java agenda
Beyond the pre-conference tutorials, the regular conference sessions ranged in content from design and methodology sessions to programming, tools, and techniques sessions and beyond. At beginning sessions, one could learn about testing techniques with Java applets and applications, as well as database development issues involved in using JBuilder. As the sessions increased in complexity, they became more interesting to me, up to the "wizard" session about JIT, HotSpot, and native compilers. Sessions were full of useful and practical Java information from many of the industries' well-regarded experts. Attendees even had the opportunity to meet the JBuilder development team. The majority of sessions were at the intermediate level, and discussed topics like JNI, servlets, JavaBeans, and performance tuning -- delivered in such a way as to be accessible even to the Java novice.
VisiBroker does Java
Besides all the Java-related information available from the JBuilder session track, there was much available elsewhere. The VisiBroker track included sessions on CORBA, Java, and Enterprise JavaBeans, as well as integrating CORBA and Java. Also, for those Java developers unfamiliar with CORBA, there were introduction sessions to learn about the basic essentials. Inprise executives also stressed VisiBroker's market successes and technology "firsts":
First Java ORB (client and server)
First Java CORBA services (naming and events)
First to support OMG's IDL to Java mapping
First Java Transaction Service (JTS) implementation, with its Integration Transaction Service (ITS)
Delphi generating Java bytecodes?
Surprisingly, there were even some Java tidbits related to Inprise's Pascal tool, Delphi, during the technology keynote. To enable existing Delphi developers to create cross-platform server applications, Chuck Jazdzewski, the chief Delphi architect, demonstrated the Delphi for Java Bytecode Compiler. This compiled Delphi source to Java bytecodes, enabling a server-side non-graphical Delphi program to run on a Solaris box or any other Java virtual machine. Inprise executives stressed that this was only a technology demonstration, not a product announcement. However, if the audience's reaction has any impact on the product's future, expect to see it soon.
JBuilder for AppServer
Another highlight from the technology keynote was Inprise's JBuilder for AppServer technology preview. While Inprise's message at the conference was consistent -- its aim is to provide support for Pure Java standards in order to deliver the best development tool for distributed solutions -- the company also wants to offer a complete solution that tightly integrates its complete line of development tools. With the AppServer preview, the JBuilder product automatically generated CORBA, HTML, and servlet client and server code -- providing a tightly integrated solution for developing, deploying, and managing distributed multitier applications. Working from an IDL file, or even plain Java interfaces, the only thing left to do is add the business logic.
Baratz keynote
Probably the biggest Java-related news came from the Straight Talk about Java Technologies for the Enterprise keynote from Dr. Alan Baratz, president of Sun's Java Software Division. (For more on the keynote, see last month's article.) In his speech, Baratz announced the latest release date for JDK 1.2 -- November 1998 -- and Sun's final development criteria. In order for it to ship, the tool must not increase the RAM footprint more than 30 percent; it must keep performance and start-up time at levels at least as good as Java 1.1; and it must be fully backward-compatible.
Baratz's other announcement was related to Sun's HotSpot technology, which is due to be released in February 1999. (For technical information on HotSpot, see Resources.) With this release, expect Java performance numbers to at least double, due to a three-pronged performance-improvement approach. Using pause-free garbage collection, adaptive optimizations, and a new threading and synchronization model, Java performance with the HotSpot virtual machine will equal the speed of natively compiled C++. The adaptive optimizations made by HotSpot are optimistic and may be dynamically backed out if they prove to be wrong -- something a static C++ compiler is unable to do, since the C++ compiler cannot undo bad guesses at runtime.
Baratz also embraced an earlier Inprise announcement about the formation of a strategic relationship with Sun (see Resources). As part of the relationship, the two companies will work together to migrate Sun's existing NEO ORB users to Inprise's leading VisiBroker CORBA ORB. In addition, there was a promise to port Inprise development tools to Solaris, with no firm commitments immediately available. JBuilder seems the obvious tool candidate, as Inprise previously expressed a goal of moving the tool to 100% Pure Java -- beyond its current 75 percent Java/25 percent Delphi solution.
Non-technical stuff
In addition to the technical offerings at the show, Inprise entertained attendees with a variety of activities. The annual Tuesday night event was at Elitch Gardens this year, a local amusement and water park. Additionally, vendors tried to attract attendees with various giveaways and costumes. Most vendor products were not of interest to the Java developer -- they were more geared to the dedicated Windows developer using Delphi and C++ Builder.
Conclusion
The ICon '98 show offered attendees the chance to enhance their knowledge of various Java technologies -- from RMI, to security, to beans, to CORBA and beyond. Also, this year's attendees were the first to hear the latest Java 1.2 release date. If you're looking for a Java-related trade show that isn't quite as crowded as JavaOne, yet still offers insight into standard Java development, Inprise's ICon conference is an excellent option. Next year's show -- in Philadelphia July 17 through July 21, 1999 -- promises to be just as good, if not better. Hope to see you there!
Learn more about this topic
See Inprise's Web site at http://www.inprise.com
For more on the Sun/Inprise agreement, see "Inprise teams with Sun on Solaris tools, Java support" in InfoWorld http://www.infoworld.com/cgi-bin/displayStory.pl?980810.ecimprise.htm
Inprise's Web site features a press release on the agreement with Sun http://www.inprise.com/about/press/1998/sunalliance.html
HotSpot technology is discussed in the following JavaWorld article"HotSpotA new breed of virtual machine" http://www.javaworld.com/jw-03-1998/jw-03-hotspot.html
HotSpot was also covered in JavaOne Today, the online show daily produced by JavaWorld. See "With HotSpot, the JVM is faster than a speeding bullet!" http://www.javaworld.com/javaone98/j1-98-hotspot.html