Enterprise integration projects that went terribly wrong
Doing enterprise integration wrong is easy--so what are they keys to success?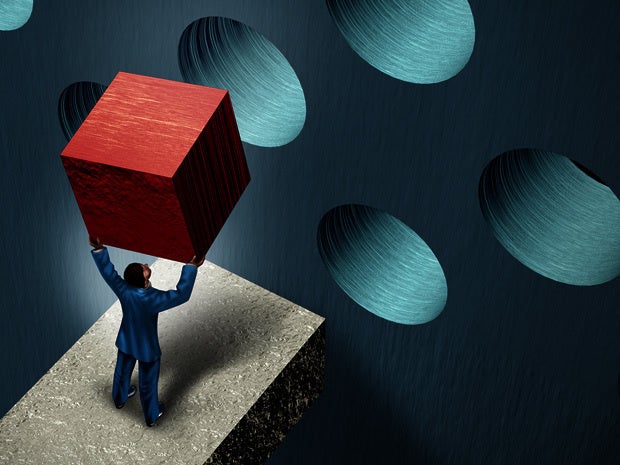 Large IT modernization projects often fail
According to the 2011 Institute for Defense Analysis report, business transformation projects are routinely "over budget, behind schedule, and have not met performance expectations."
The issues with integrations can vary, but some reasons include:
Large projects are complex, both technologically and financially
Reporting negative findings is perceived as weakness; obstacles are therefore not removed
Focus is often on technology instead of business needs
Difficult for smaller, more agile companies to access government projects
Lack of incentives that encourage completion versus stretching the project (cost plus arrangement)
Zeev Avidan, vice president of product management at OpenLegacy, reviews some of those difficult mergers.
HP can't drive project through DMV
In 2015, Department of Motor Vehicles projects were cancelled.With 39 agencies, the New Jersey DMV's computer system has been blamed for failing and shutting down motor vehicle agencies statewide four times, sending drivers away empty-handed.
What was the plan: For the past 10 years, the DMV has unsuccessfully tried to retire the old COBOL computer system with a new system, dubbed MATRX. The original plan was to have MATRX running in three years, said Mairin Bellack, an DMV spokeswoman.
How was it executed: MATRX was proposed in 2005, scoped out in 2006, advertised in 2007 and a contract awarded in 2008. Since then the project has been delayed while costs have increased. The MATRX contract bounced to three vendors, with HP being the last company to inherit it from EDS, a predecessor company, DMV officials said.
And the result: In 2015 the state Attorney General negotiated a $30 million settlement with HP. In the deal, the state kept $14 million, HP kept $16 million for work they'd already done. The state also refused to pay another $5 million in change orders.
Several other states fell victim to failed projects with HP: Rhode Island (more than $16 million), California ($135 million), Minnesota ($48 million) and Vermont ($18.5 million).
Started: 2005
Ended: 2015
U.S. Air Force Spends $1 Billion on Failed ECSS project in Virginia
According to Spectrum, between 2004-2011 the US Air Force failed to complete an ambitious and risky effort to replace 240 outdated Air Force computer systems with a single integrated system.The Expeditionary Combat Support System (ECSS) failed to transform USAF business with its enterprise resource planning software project.
What was the plan: A large-scale business systems transformation of Air Force logistics implemented through enterprise resource planning, using a commercial-off-the-shelf software solution.
How was it executed: The plan was implemented using the Business Capability Lifecycle methodology.
And the result: The project was never completed after spending $1 billion.

Started: 2004
Ended: 2011
Bridgestone sues IBM for over $600 million
Bridgestone's migration project went to court. To improve its business performance and customer service, and position itself for growth, Bridgestone set out to integrate and standardize systems across multiple locations and replace aging systems.
What was the plan: Replace the aging COPS system with a modern, integrated enterprise resource planning platform using an OTC design solution.
How was it executed: According to Bridgestone, IBM implemented the system with defects.
And the result: Bridgestone's North American tire operations and its retail operations had to disconnect automated systems and go into manual disaster recovery.

Started: 2009
Ended: 2012
DMV IT project cancelled in California
California's DMV IT project was cancelled.The goal was to revamp the process for registering vehicles.
Canadian Healthcare records
Why the Canadian federal government and provinces started the modernization project: The goal was to reduce costs and improve quality through a "national health infostructure" with every Canadian's health records digitalized.
What was the plan: The plan was to create one huge database of health records.
How was it executed: The plan was executed without an e-health policy, without involving clinicians, without a business case for using the electronic health records, and without attending to the need to connect physicians to each other and to their patients.
And the result: Since 2001, over $2 billion was spent and, until recently, the system was reportedly under used. As of May 2016, however, Canada Health Infoway reports significant progress.

Started: 2001
Ended: Ongoing
A $46 million Diabetes Information System -- Ontario, Canada
Why the Ontario provincial government started the modernization project: The goal was a system that aided in the treatment of the 1 million Ontarians with diabetes, while serving as the launch pad for eHealth Ontario's proposed $150 million Chronic Disease Management System which was to oversee patients with congestive heart failure, asthma and chronic obstructive pulmonary disease.
What was the plan: The plan was to have dual data entry – both into the patient's chart and into the registry. This would enable the family physicians to be updated about the patient from other sources, such as specialists.
How was it executed: The project architecture was purchased off-the-shelf.
And the result: The project was stopped before it was completed due to, among other root causes, technological advances - particularly "cloud computing and improved integration … are rendering central data repositories obsolete," according to Dale Anderson, senior e-health consultant.

Started: 2009
Ended: 2012
An $80 million Laboratory Information System -- Ontario, Canada
Why the province of Ontario started the Laboratory Information System project: The goal was to track the volume and cost of laboratory testing in Ontario. As it evolved, its role was also to enhance patient care and be a part of the Electronic Health Record (EHR) system.
What was the plan: The plan was to collect test results from hospitals and commercial labs. The plan did not include using the results for clinical use.
How was it executed: By the time it was executed, there was an expectation that clinicians would use the Laboratory Information System for patient care and as a part of the Electronic Health Record system.
And the result: The result was an $80 million laboratory information system that costs at least $15 million annually to operate and "has languished largely unused for years."

Started: 1990s
Ended: 2006 – began accepting test results; major upgrades are needed
How to avoid failure in 2016
Avidan 's advice for avoiding failure:
Focus on current business needs not technology, involving key stakeholders along the way
Reduce complexity by scoping smaller, shorter term, less expensive projects
Encourage discussion of obstacles, don't cover them up
Provide training to the relevant teams
Align the incentives with achievement of the needs on time
Use industry standards that eliminate vendor lock-in and open up the market to more agile vendors
Next Up: Check out these related slideshows